On World Food Day, the whole school participates in cooking activities. Each class chooses a different country and make food representative of it. During the afternoon, everyone takes their passport to the hall and samples food from each country. At 3pm, parents are welcome to visit and sample the food.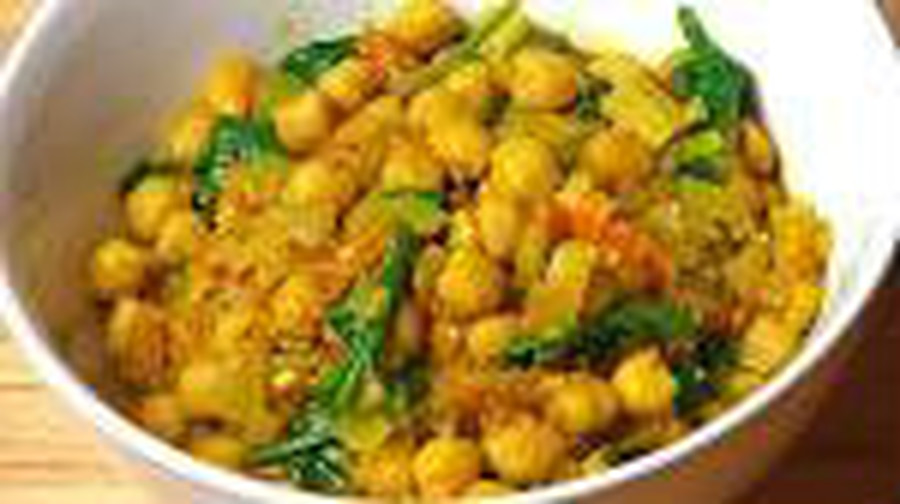 Ingredients
2 tbsp vegetable oil
1 tsp cumin seeds
1-2 red chillies, deseeded and chopped
1 clove
1 small cinnamon stick
1 bay leaf
1 onion, finely chopped
½ tsp ground turmeric
2 garlic cloves, finely chopped
400g can chickpeas, rinsed and drained
1 tsp paprika
1 tsp ground coriander
2 small tomatoes, chopped
1 tbsp chopped coriander
Method
Heat the oil in a heavy-bottomed pan. Fry the cumin, chillies, clove, cinnamon and bay leaf together until the cumin starts to crackle. Tip in the onion, turmeric and a pinch of salt. Cook for 2 mins until starting to soften, then add the garlic.
Continue cooking 4-5 mins until the onion is soft, then add chickpeas, paprika, black pepper and ground coriander. Give everything a good stir so the chickpeas are well coated in the spices.
Add the tomatoes and 2 tbsp water. Cook on a medium heat until tomatoes are soft and the sauce is thick and pulpy. Take off the heat and sprinkle on the coriander.
From http://www.bbcgoodfood.com/recipes/1108641/curried-chickpeas
Banana Bonda (Sweet Paniyaram)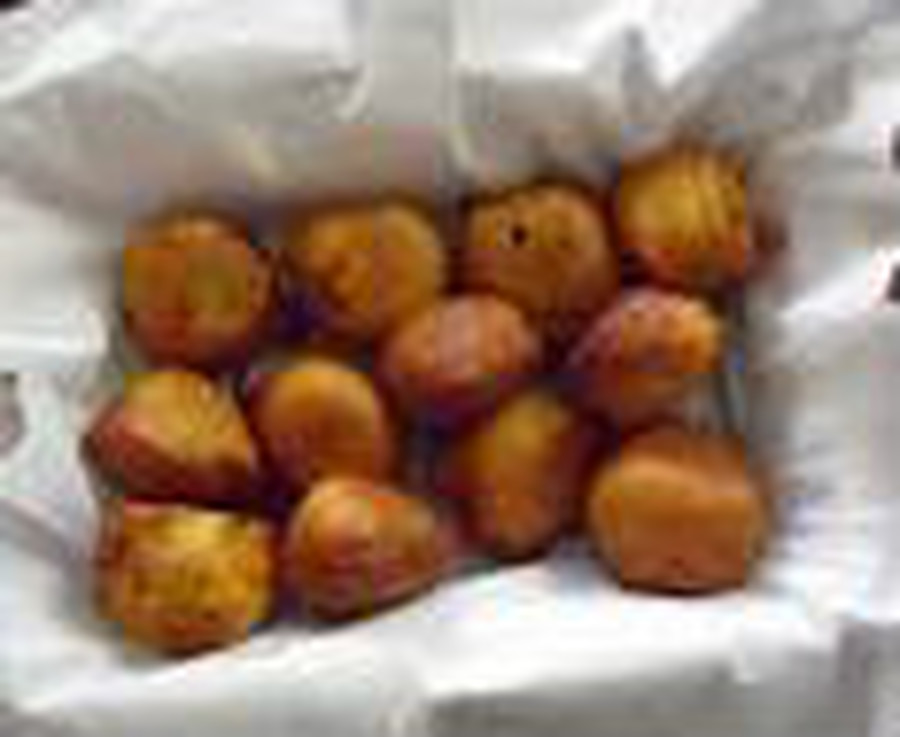 Ingredients
2 Bananas
1.5 cups Plain flour
0.75 cups Sugar (or as needed)
Water as needed
Method
Mash the bananas then mix with flour, sugar and a little water to form a thick dough.

Heat some oil for deep frying

Take a handful of the mix and drop into the hot all as small rounds.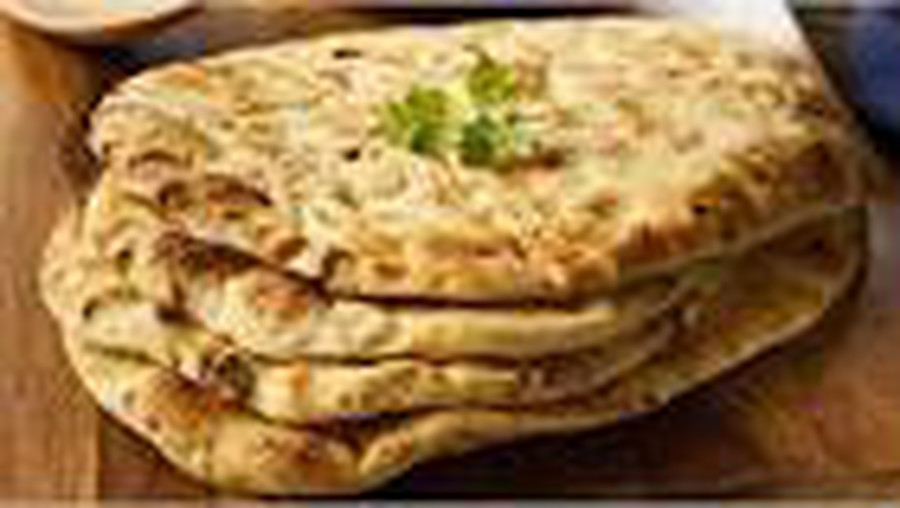 Ingredients
For the dough
250g/9oz plain flour

2 tsp sugar

½ tsp salt

½ tsp baking powder

110-130ml/3½-4½fl oz milk

2 tbsp vegetable oil, plus extra for greasing
For the topping
nigella seeds, poppy seeds or sesame seeds, or chopped garlic and fresh coriander

1 tbsp butter, melted, to serve
Method
For the dough, sift the flour, sugar, salt and baking powder into a bowl. In another bowl, mix together the milk and oil.

Make a well in the centre of the flour mixture and pour in the liquid mixture. Slowly mix together the dough by working from the centre and incorporating the flour from the edges of the 'well', to make a smooth, soft dough. Knead well for 8-10 minutes, adding a little flour if the dough is too sticky.

Place the dough into an oiled bowl, cover with a damp tea-towel and leave in a warm place for 10-15 minutes. Form the dough into five balls.

Preheat the grill to medium and place a heavy baking sheet on the upper shelf of the grill to heat.

Roll the dough balls out quite thinly, ideally in a teardrop shape, but really this is just aesthetic. Sprinkle over your chosen topping and press into the surface of the dough. Place the naans onto the hot baking sheet and grill for just 1-2 minutes, or until lightly browned. Brush with butter and serve hot.
Ingredients
Servings10 Units US
1⁄2 cup oil
3⁄4 cup brown sugar

1 egg

1⁄2 teaspoon vanilla
3⁄4 cup flour
1⁄2 teaspoon baking powder
1⁄2 teaspoon salt
1 1⁄2 cups rolled oats
3⁄4 cup sunflower seeds
Method
Cream oil, brown sugar, egg and vanilla. Add flour, baking powder, salt (unless seeds are salted). Add oats and sunflower seeds.

Cook at 350 degrees 10-15 minutes.
From: bbc.co.uk/food
Pizza dough base
over 2 hours preparation time
Makes 6 x 8 inch pizza bases
Ingredients
For the dough
650g/1lb 5oz Italian 00 flour (strong white flour)
7g sachet of easy-blend yeast
2 tsp salt
25ml/1fl oz olive oil
50ml/2fl oz warm milk
325ml/11fl oz warm water
Preparation method
1. Make the dough: mix the flour, yeast and salt together in a large mixing bowl and stir in the olive oil and milk. Gradually add the water,
mixing well to form a soft dough.
2. Turn the dough out on to a floured work surface and knead for about five minutes, until smooth and elastic. Transfer to a clean bowl, cover with a damp tea towel and leave to rise for about 1½ hours, until doubled in size.
3. When the dough has risen, knock it back, then knead again until smooth, roll into a ball and set aside for 30 minutes to 1 hour until risen again.
4. Preheat the oven to its highest setting.
5. Divide the dough into six balls and roll each out onto a lightly floured work surface until 20cm/8in in diameter.
6. Spread a little passata (or homemade tomato sauce) over each pizza base and top with your favourite toppings.
7. Bake the pizzas in the oven until the bases are crisp and golden-brown around the edges and any cheese on the topping has melted.
By Silvana Franco
From Saturday Kitchen
Make your own pizza with this authentic Italian recipe - it uses '00' flour to give the base a lighter, crisper texture. Top recipe tip. You can freeze the dough after step 3.
Divide into 6 balls and wrap each one in cling film. Defrost overnight in the fridge before proceeding with the recipe.
Powered by TCPDF (www.tcpdf.org)
To make our garlic bread, we used a layer of pizza dough and coated it with crushed garlic mixed into melted butter, then baked it for approximately 20 minutes.
Double Chocolate Biscotti
| | |
| --- | --- |
| Rated: | |

Submitted By:

Janet Allen

Ready In:

1 Hour 20 Minutes
"A crisp, not too sweet chocolate cookie. Wonderful with coffee. Stores very well."
1/2 cup butter, softened

2/3 cup white sugar

1/4 cup unsweetened cocoa powder

2 teaspoons baking powder

2 eggs

1 3/4 cups all-purpose flour

4 (1 ounce) squares white chocolate,

chopped

3/4 cup semisweet chocolate chips
| | |
| --- | --- |
| 1. | In a large mixing bowl, cream butter and sugar with an electric mixer until light and fluffy. Gradually beat in cocoa and baking powder. Beat for 2 minutes. Beat in the eggs one at a time. Stir in flour by hand. Mix in white chocolate and chocolate chips. Cover dough, and chill for about 10 minutes. |
| 2. | Preheat oven to 375 degrees F (190 degrees C). Divide dough into two parts, and roll each part into a 9 inch long log. Place logs on lightly greased cookie sheet, about 4 inches apart. Flatten slightly. |
| 3. | Bake for 20 to 25 minutes, or until toothpick inserted in center comes out clean. Cool on cookie sheet for 5 minutes, then carefully transfer to a wire rack to cool for one hour. |
| 4. | Cut each loaf into 1/2 inch wide diagonal slices. Place slices on an ungreased cookie sheet, and bake at 325 degrees F ( 165 degrees C) for 9 minutes. Turn cookies over, and bake for 7 to 9 minutes. Cool completely, then store in an airtight container. |
| | |
| --- | --- |
| ALL RIGHTS RESERVED © 2015 Allrecipes.com | Printed from Allrecipes.com 2/10/2015 |